Who was Best Dressed at the 2021 Billboards Awards?
The 2021 Billboards Music Awards were held on Sunday, May 23 at 8 p.m. ET at Microsoft Theater honouring the best artists of 2021. Today we look at who wore what at the red carpet!
As one of the major events in the awards season calendar, the ceremony was held at Microsoft Theater on Sunday.
On the fashion front, Billboard Awards are known for their modern approach to style.
Priyanka Chopra Jonas in Pertegaz
Nick Jonas in Fendi
Saweetie in Giambattista Valli
Alicia Keys in Valentino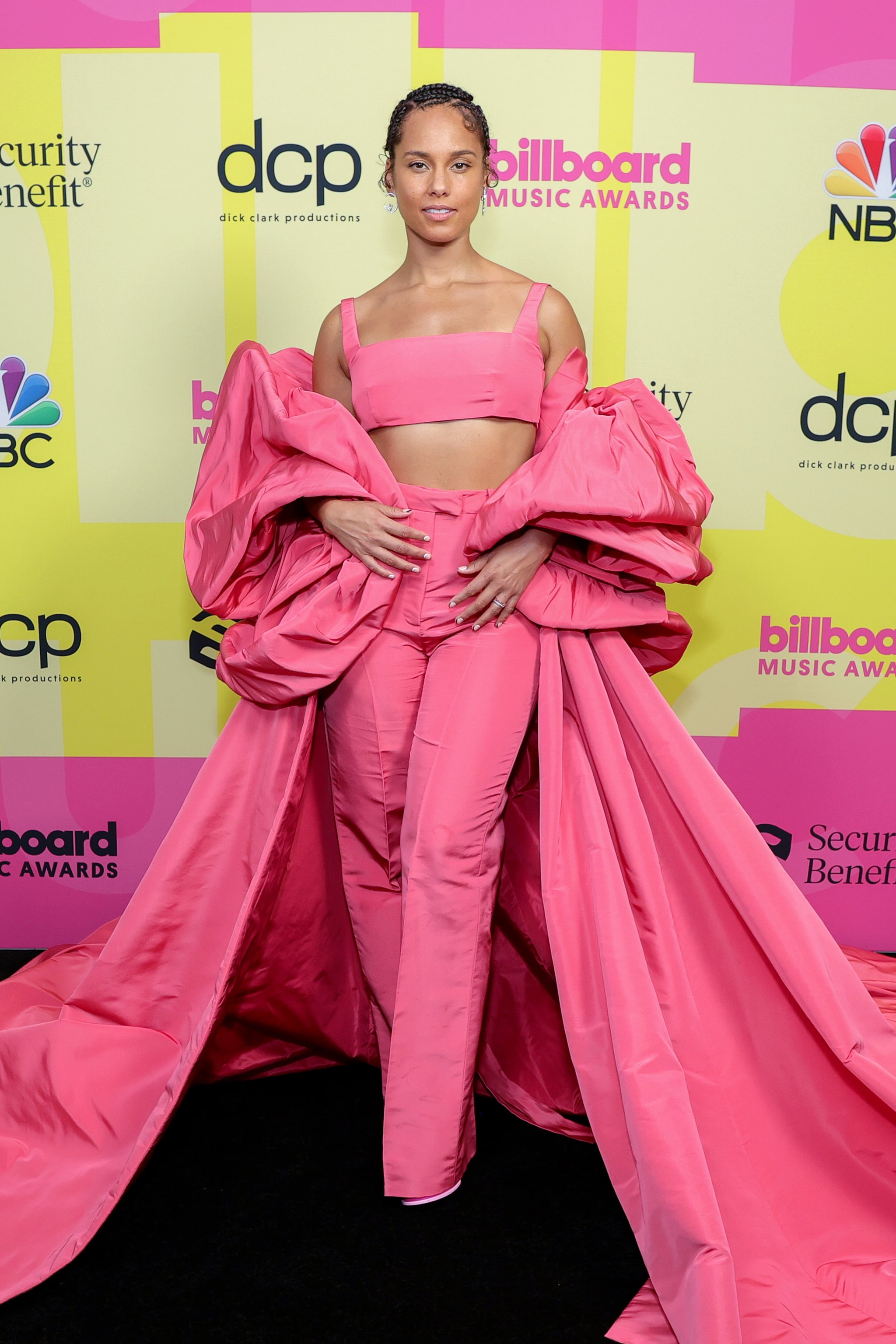 Gabrielle Union in Prada
Migos in Louis Vuitton
The Weeknd in Bottega Veneta
DJ Khaled in Dolce & Gabbana
Doja Cat in Balmain
Kehlani in Tony Ward
The Billboard Awards gave us a chance to drool over those amazing looks and dresses for the rest of the next week! Yet, did you get a chance to see who won the awards at the Billboard Awards? If not, check out our article on Winners & Nominees of Billboards Music Awards 2021
As one of the major events in the awards season calendar, the ceremony was held across two nights at the Royal Albert Hall in London with the technical prizes on 10th April 2021 and more headline-grabbing awards being handed out on 11th April 2021. On the fashion front, the BAFTAs are known for its renegade approach to style. Without any live audience, all the looks will be beamed in remotely—and with some of Hollywood's most stylish young talent, including Vanessa Kirby, Leslie Odom Jr., and Phoebe Dynevor! Baftas
As one of the major events in the awards season calendar, the ceremony was held across two nights at the Royal Albert Hall in London with the technical prizes on 10th April 2021 and more headline-grabbing awards being handed out on 11th April 2021. On the fashion front, the BAFTAs are known for its renegade approach to style. Without any live audience, all the looks will be beamed in remotely—and with some of Hollywood's most stylish young talent, including Vanessa Kirby, Leslie Odom Jr., and Phoebe Dynevor! Baftas
As one of the major events in the awards season calendar, the ceremony was held across two nights at the Royal Albert Hall in London with the technical prizes on 10th April 2021 and more headline-grabbing awards being handed out on 11th April 2021. On the fashion front, the BAFTAs are known for its renegade approach to style. Without any live audience, all the looks will be beamed in remotely—and with some of Hollywood's most stylish young talent, including Vanessa Kirby, Leslie Odom Jr., and Phoebe Dynevor! Baftas
As one of the major events in the awards season calendar, the ceremony was held across two nights at the Royal Albert Hall in London with the technical prizes on 10th April 2021 and more headline-grabbing awards being handed out on 11th April 2021. On the fashion front, the BAFTAs are known for its renegade approach to style. Without any live audience, all the looks will be beamed in remotely—and with some of Hollywood's most stylish young talent, including Vanessa Kirby, Leslie Odom Jr., and Phoebe Dynevor! Baftas
As one of the major events in the awards season calendar, the ceremony was held across two nights at the Royal Albert Hall in London with the technical prizes on 10th April 2021 and more headline-grabbing awards being handed out on 11th April 2021. On the fashion front, the BAFTAs are known for its renegade approach to style. Without any live audience, all the looks will be beamed in remotely—and with some of Hollywood's most stylish young talent, including Vanessa Kirby, Leslie Odom Jr., and Phoebe Dynevor! Baftas
As one of the major events in the awards season calendar, the ceremony was held across two nights at the Royal Albert Hall in London with the technical prizes on 10th April 2021 and more headline-grabbing awards being handed out on 11th April 2021. On the fashion front, the BAFTAs are known for its renegade approach to style. Without any live audience, all the looks will be beamed in remotely—and with some of Hollywood's most stylish young talent, including Vanessa Kirby, Leslie Odom Jr., and Phoebe Dynevor! Baftas
As one of the major events in the awards season calendar, the ceremony was held across two nights at the Royal Albert Hall in London with the technical prizes on 10th April 2021 and more headline-grabbing awards being handed out on 11th April 2021. On the fashion front, the BAFTAs are known for its renegade approach to style. Without any live audience, all the looks will be beamed in remotely—and with some of Hollywood's most stylish young talent, including Vanessa Kirby, Leslie Odom Jr., and Phoebe Dynevor! Baftas
As one of the major events in the awards season calendar, the ceremony was held across two nights at the Royal Albert Hall in London with the technical prizes on 10th April 2021 and more headline-grabbing awards being handed out on 11th April 2021. On the fashion front, the BAFTAs are known for its renegade approach to style. Without any live audience, all the looks will be beamed in remotely—and with some of Hollywood's most stylish young talent, including Vanessa Kirby, Leslie Odom Jr., and Phoebe Dynevor! Baftas
As one of the major events in the awards season calendar, the ceremony was held across two nights at the Royal Albert Hall in London with the technical prizes on 10th April 2021 and more headline-grabbing awards being handed out on 11th April 2021. On the fashion front, the BAFTAs are known for its renegade approach to style. Without any live audience, all the looks will be beamed in remotely—and with some of Hollywood's most stylish young talent, including Vanessa Kirby, Leslie Odom Jr., and Phoebe Dynevor! Baftas
As one of the major events in the awards season calendar, the ceremony was held across two nights at the Royal Albert Hall in London with the technical prizes on 10th April 2021 and more headline-grabbing awards being handed out on 11th April 2021. On the fashion front, the BAFTAs are known for its renegade approach to style. Without any live audience, all the looks will be beamed in remotely—and with some of Hollywood's most stylish young talent, including Vanessa Kirby, Leslie Odom Jr., and Phoebe Dynevor! Baftas
As one of the major events in the awards season calendar, the ceremony was held across two nights at the Royal Albert Hall in London with the technical prizes on 10th April 2021 and more headline-grabbing awards being handed out on 11th April 2021. On the fashion front, the BAFTAs are known for its renegade approach to style. Without any live audience, all the looks will be beamed in remotely—and with some of Hollywood's most stylish young talent, including Vanessa Kirby, Leslie Odom Jr., and Phoebe Dynevor! Baftas
As one of the major events in the awards season calendar, the ceremony was held across two nights at the Royal Albert Hall in London with the technical prizes on 10th April 2021 and more headline-grabbing awards being handed out on 11th April 2021. On the fashion front, the BAFTAs are known for its renegade approach to style. Without any live audience, all the looks will be beamed in remotely—and with some of Hollywood's most stylish young talent, including Vanessa Kirby, Leslie Odom Jr., and Phoebe Dynevor! Baftas
As one of the major events in the awards season calendar, the ceremony was held across two nights at the Royal Albert Hall in London with the technical prizes on 10th April 2021 and more headline-grabbing awards being handed out on 11th April 2021. On the fashion front, the BAFTAs are known for its renegade approach to style. Without any live audience, all the looks will be beamed in remotely—and with some of Hollywood's most stylish young talent, including Vanessa Kirby, Leslie Odom Jr., and Phoebe Dynevor! Baftas
As one of the major events in the awards season calendar, the ceremony was held across two nights at the Royal Albert Hall in London with the technical prizes on 10th April 2021 and more headline-grabbing awards being handed out on 11th April 2021. On the fashion front, the BAFTAs are known for its renegade approach to style. Without any live audience, all the looks will be beamed in remotely—and with some of Hollywood's most stylish young talent, including Vanessa Kirby, Leslie Odom Jr., and Phoebe Dynevor! Baftas
As one of the major events in the awards season calendar, the ceremony was held across two nights at the Royal Albert Hall in London with the technical prizes on 10th April 2021 and more headline-grabbing awards being handed out on 11th April 2021. On the fashion front, the BAFTAs are known for its renegade approach to style. Without any live audience, all the looks will be beamed in remotely—and with some of Hollywood's most stylish young talent, including Vanessa Kirby, Leslie Odom Jr., and Phoebe Dynevor! Baftas
As one of the major events in the awards season calendar, the ceremony was held across two nights at the Royal Albert Hall in London with the technical prizes on 10th April 2021 and more headline-grabbing awards being handed out on 11th April 2021. On the fashion front, the BAFTAs are known for its renegade approach to style. Without any live audience, all the looks will be beamed in remotely—and with some of Hollywood's most stylish young talent, including Vanessa Kirby, Leslie Odom Jr., and Phoebe Dynevor! Baftas
As one of the major events in the awards season calendar, the ceremony was held across two nights at the Royal Albert Hall in London with the technical prizes on 10th April 2021 and more headline-grabbing awards being handed out on 11th April 2021. On the fashion front, the BAFTAs are known for its renegade approach to style. Without any live audience, all the looks will be beamed in remotely—and with some of Hollywood's most stylish young talent, including Vanessa Kirby, Leslie Odom Jr., and Phoebe Dynevor! Baftas
As one of the major events in the awards season calendar, the ceremony was held across two nights at the Royal Albert Hall in London with the technical prizes on 10th April 2021 and more headline-grabbing awards being handed out on 11th April 2021. On the fashion front, the BAFTAs are known for its renegade approach to style. Without any live audience, all the looks will be beamed in remotely—and with some of Hollywood's most stylish young talent, including Vanessa Kirby, Leslie Odom Jr., and Phoebe Dynevor! Baftas
As one of the major events in the awards season calendar, the ceremony was held across two nights at the Royal Albert Hall in London with the technical prizes on 10th April 2021 and more headline-grabbing awards being handed out on 11th April 2021. On the fashion front, the BAFTAs are known for its renegade approach to style. Without any live audience, all the looks will be beamed in remotely—and with some of Hollywood's most stylish young talent, including Vanessa Kirby, Leslie Odom Jr., and Phoebe Dynevor! Baftas
As one of the major events in the awards season calendar, the ceremony was held across two nights at the Royal Albert Hall in London with the technical prizes on 10th April 2021 and more headline-grabbing awards being handed out on 11th April 2021. On the fashion front, the BAFTAs are known for its renegade approach to style. Without any live audience, all the looks will be beamed in remotely—and with some of Hollywood's most stylish young talent, including Vanessa Kirby, Leslie Odom Jr., and Phoebe Dynevor! Baftas
As one of the major events in the awards season calendar, the ceremony was held across two nights at the Royal Albert Hall in London with the technical prizes on 10th April 2021 and more headline-grabbing awards being handed out on 11th April 2021. On the fashion front, the BAFTAs are known for its renegade approach to style. Without any live audience, all the looks will be beamed in remotely—and with some of Hollywood's most stylish young talent, including Vanessa Kirby, Leslie Odom Jr., and Phoebe Dynevor! Baftas
As one of the major events in the awards season calendar, the ceremony was held across two nights at the Royal Albert Hall in London with the technical prizes on 10th April 2021 and more headline-grabbing awards being handed out on 11th April 2021. On the fashion front, the BAFTAs are known for its renegade approach to style. Without any live audience, all the looks will be beamed in remotely—and with some of Hollywood's most stylish young talent, including Vanessa Kirby, Leslie Odom Jr., and Phoebe Dynevor! Baftas
As one of the major events in the awards season calendar, the ceremony was held across two nights at the Royal Albert Hall in London with the technical prizes on 10th April 2021 and more headline-grabbing awards being handed out on 11th April 2021. On the fashion front, the BAFTAs are known for its renegade approach to style. Without any live audience, all the looks will be beamed in remotely—and with some of Hollywood's most stylish young talent, including Vanessa Kirby, Leslie Odom Jr., and Phoebe Dynevor! Baftas
As one of the major events in the awards season calendar, the ceremony was held across two nights at the Royal Albert Hall in London with the technical prizes on 10th April 2021 and more headline-grabbing awards being handed out on 11th April 2021. On the fashion front, the BAFTAs are known for its renegade approach to style. Without any live audience, all the looks will be beamed in remotely—and with some of Hollywood's most stylish young talent, including Vanessa Kirby, Leslie Odom Jr., and Phoebe Dynevor! BaftasBillboardBillboardBillboardBillboardBillboardBillboardBillboardBillboardBillboardBillboardBillboardBillboardBillboardBillboard
As one of the major events in the awards season calendar, the ceremony was held across two nights at the Royal Albert Hall in London with the technical prizes on 10th April 2021 and more headline-grabbing awards being handed out on 11th April 2021. On the fashion front, the BAFTAs are known for its renegade approach to style. Without any live audience, all the looks will be beamed in remotely—and with some of Hollywood's most stylish young talent, including Vanessa Kirby, Leslie Odom Jr., and Phoebe Dynevor! Baftas
As one of the major events in the awards season calendar, the ceremony was held across two nights at the Royal Albert Hall in London with the technical prizes on 10th April 2021 and more headline-grabbing awards being handed out on 11th April 2021. On the fashion front, the BAFTAs are known for its renegade approach to style. Without any live audience, all the looks will be beamed in remotely—and with some of Hollywood's most stylish young talent, including Vanessa Kirby, Leslie Odom Jr., and Phoebe Dynevor! BaftasBillboardBillboardBillboardBillboardBillboardBillboardBillboardBillboardBillboardBillboardBillboardBillboard
As one of the major events in the awards season calendar, the ceremony was held across two nights at the Royal Albert Hall in London with the technical prizes on 10th April 2021 and more headline-grabbing awards being handed out on 11th April 2021. On the fashion front, the BAFTAs are known for its renegade approach to style. Without any live audience, all the looks will be beamed in remotely—and with some of Hollywood's most stylish young talent, including Vanessa Kirby, Leslie Odom Jr., and Phoebe Dynevor! Baftas