The Famous Songkran Festival
As today marks the day of Thai New Year, discover Songkran, the famous water festival that takes place annually in Thailand to celebrate the New Year.
What is Songkran?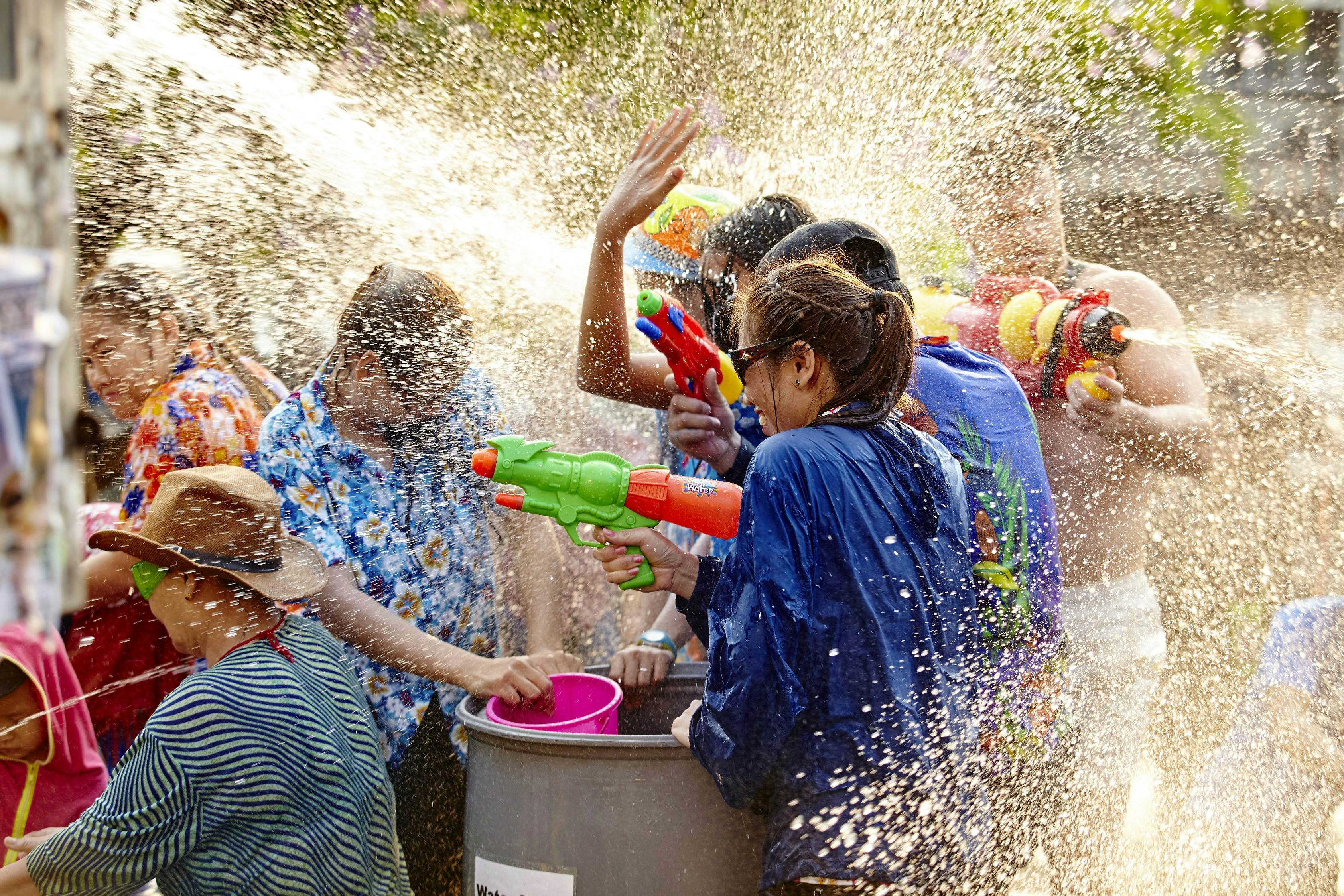 Songkran, the famous annual water festival of Thailand that takes place on the 15th of April. The water festival marks the beginning of the Thai New Year and is an important date on the Buddhist Calendar.
On the 14th of April, Wan Nao takes place. Wan Nao is the celebration of the old Thai New Year's Eve on the 14th since that is when the sun travels between Pisces and Aires. The final day, April 15th is Thai New Year's day – offerings are left at temples to ring in the new year.
If you happen to find yourself in Thailand, then you would probably want to have a raincoat on because anyone that is in range is definitely getting splashed with water!
Why is Songkran Important?
During the festival, Thai people pour water mixed with Thai Fragrance on Buddha images and a bathing ritual where the people pour water on the senior Buddhist monks. After that, the chief monk will give a sermon and bless those who attend this bathing ritual.
It is believed to bring good luck to them and it is a tradition that houses are cleaned before celebrations to avoid bringing bad luck into the New Year.
Read more Holiday Fever articles at The Teen Pop Magazine.
During the festival, Thai people pour water mixed with Thai Fragrance on Buddha images and a bathing ritual where the people pour water on the senior Buddhist monks. After that, the chief monk will give a sermon and bless those who attend this bathing ritual. Songkran
During the festival, Thai people pour water mixed with Thai Fragrance on Buddha images and a bathing ritual where the people pour water on the senior Buddhist monks. After that, the chief monk will give a sermon and bless those who attend this bathing ritual. Songkran
During the festival, Thai people pour water mixed with Thai Fragrance on Buddha images and a bathing ritual where the people pour water on the senior Buddhist monks. After that, the chief monk will give a sermon and bless those who attend this bathing ritual. Songkran
During the festival, Thai people pour water mixed with Thai Fragrance on Buddha images and a bathing ritual where the people pour water on the senior Buddhist monks. After that, the chief monk will give a sermon and bless those who attend this bathing ritual. Songkran
During the festival, Thai people pour water mixed with Thai Fragrance on Buddha images and a bathing ritual where the people pour water on the senior Buddhist monks. After that, the chief monk will give a sermon and bless those who attend this bathing ritual. Songkran
During the festival, Thai people pour water mixed with Thai Fragrance on Buddha images and a bathing ritual where the people pour water on the senior Buddhist monks. After that, the chief monk will give a sermon and bless those who attend this bathing ritual. Songkran
During the festival, Thai people pour water mixed with Thai Fragrance on Buddha images and a bathing ritual where the people pour water on the senior Buddhist monks. After that, the chief monk will give a sermon and bless those who attend this bathing ritual. Songkran
During the festival, Thai people pour water mixed with Thai Fragrance on Buddha images and a bathing ritual where the people pour water on the senior Buddhist monks. After that, the chief monk will give a sermon and bless those who attend this bathing ritual. Songkran
During the festival, Thai people pour water mixed with Thai Fragrance on Buddha images and a bathing ritual where the people pour water on the senior Buddhist monks. After that, the chief monk will give a sermon and bless those who attend this bathing ritual. Songkran
During the festival, Thai people pour water mixed with Thai Fragrance on Buddha images and a bathing ritual where the people pour water on the senior Buddhist monks. After that, the chief monk will give a sermon and bless those who attend this bathing ritual. Songkran
During the festival, Thai people pour water mixed with Thai Fragrance on Buddha images and a bathing ritual where the people pour water on the senior Buddhist monks. After that, the chief monk will give a sermon and bless those who attend this bathing ritual. Songkran
During the festival, Thai people pour water mixed with Thai Fragrance on Buddha images and a bathing ritual where the people pour water on the senior Buddhist monks. After that, the chief monk will give a sermon and bless those who attend this bathing ritual. Songkran
During the festival, Thai people pour water mixed with Thai Fragrance on Buddha images and a bathing ritual where the people pour water on the senior Buddhist monks. After that, the chief monk will give a sermon and bless those who attend this bathing ritual. Songkran
During the festival, Thai people pour water mixed with Thai Fragrance on Buddha images and a bathing ritual where the people pour water on the senior Buddhist monks. After that, the chief monk will give a sermon and bless those who attend this bathing ritual. Songkran
During the festival, Thai people pour water mixed with Thai Fragrance on Buddha images and a bathing ritual where the people pour water on the senior Buddhist monks. After that, the chief monk will give a sermon and bless those who attend this bathing ritual. Songkran
During the festival, Thai people pour water mixed with Thai Fragrance on Buddha images and a bathing ritual where the people pour water on the senior Buddhist monks. After that, the chief monk will give a sermon and bless those who attend this bathing ritual. Songkran
During the festival, Thai people pour water mixed with Thai Fragrance on Buddha images and a bathing ritual where the people pour water on the senior Buddhist monks. After that, the chief monk will give a sermon and bless those who attend this bathing ritual. Songkran
During the festival, Thai people pour water mixed with Thai Fragrance on Buddha images and a bathing ritual where the people pour water on the senior Buddhist monks. After that, the chief monk will give a sermon and bless those who attend this bathing ritual. Songkran
During the festival, Thai people pour water mixed with Thai Fragrance on Buddha images and a bathing ritual where the people pour water on the senior Buddhist monks. After that, the chief monk will give a sermon and bless those who attend this bathing ritual. Songkran
During the festival, Thai people pour water mixed with Thai Fragrance on Buddha images and a bathing ritual where the people pour water on the senior Buddhist monks. After that, the chief monk will give a sermon and bless those who attend this bathing ritual. Songkran
During the festival, Thai people pour water mixed with Thai Fragrance on Buddha images and a bathing ritual where the people pour water on the senior Buddhist monks. After that, the chief monk will give a sermon and bless those who attend this bathing ritual. Songkran
During the festival, Thai people pour water mixed with Thai Fragrance on Buddha images and a bathing ritual where the people pour water on the senior Buddhist monks. After that, the chief monk will give a sermon and bless those who attend this bathing ritual. Songkran
During the festival, Thai people pour water mixed with Thai Fragrance on Buddha images and a bathing ritual where the people pour water on the senior Buddhist monks. After that, the chief monk will give a sermon and bless those who attend this bathing ritual. Songkran
During the festival, Thai people pour water mixed with Thai Fragrance on Buddha images and a bathing ritual where the people pour water on the senior Buddhist monks. After that, the chief monk will give a sermon and bless those who attend this bathing ritual. Songkran
During the festival, Thai people pour water mixed with Thai Fragrance on Buddha images and a bathing ritual where the people pour water on the senior Buddhist monks. After that, the chief monk will give a sermon and bless those who attend this bathing ritual. Songkran
During the festival, Thai people pour water mixed with Thai Fragrance on Buddha images and a bathing ritual where the people pour water on the senior Buddhist monks. After that, the chief monk will give a sermon and bless those who attend this bathing ritual. Songkran
During the festival, Thai people pour water mixed with Thai Fragrance on Buddha images and a bathing ritual where the people pour water on the senior Buddhist monks. After that, the chief monk will give a sermon and bless those who attend this bathing ritual. Songkran
During the festival, Thai people pour water mixed with Thai Fragrance on Buddha images and a bathing ritual where the people pour water on the senior Buddhist monks. After that, the chief monk will give a sermon and bless those who attend this bathing ritual. Songkran
During the festival, Thai people pour water mixed with Thai Fragrance on Buddha images and a bathing ritual where the people pour water on the senior Buddhist monks. After that, the chief monk will give a sermon and bless those who attend this bathing ritual. Songkran
During the festival, Thai people pour water mixed with Thai Fragrance on Buddha images and a bathing ritual where the people pour water on the senior Buddhist monks. After that, the chief monk will give a sermon and bless those who attend this bathing ritual. Songkran
During the festival, Thai people pour water mixed with Thai Fragrance on Buddha images and a bathing ritual where the people pour water on the senior Buddhist monks. After that, the chief monk will give a sermon and bless those who attend this bathing ritual. Songkran
During the festival, Thai people pour water mixed with Thai Fragrance on Buddha images and a bathing ritual where the people pour water on the senior Buddhist monks. After that, the chief monk will give a sermon and bless those who attend this bathing ritual. Songkran
During the festival, Thai people pour water mixed with Thai Fragrance on Buddha images and a bathing ritual where the people pour water on the senior Buddhist monks. After that, the chief monk will give a sermon and bless those who attend this bathing ritual. Songkran
During the festival, Thai people pour water mixed with Thai Fragrance on Buddha images and a bathing ritual where the people pour water on the senior Buddhist monks. After that, the chief monk will give a sermon and bless those who attend this bathing ritual. Songkran
During the festival, Thai people pour water mixed with Thai Fragrance on Buddha images and a bathing ritual where the people pour water on the senior Buddhist monks. After that, the chief monk will give a sermon and bless those who attend this bathing ritual. Songkran
During the festival, Thai people pour water mixed with Thai Fragrance on Buddha images and a bathing ritual where the people pour water on the senior Buddhist monks. After that, the chief monk will give a sermon and bless those who attend this bathing ritual. Songkran
During the festival, Thai people pour water mixed with Thai Fragrance on Buddha images and a bathing ritual where the people pour water on the senior Buddhist monks. After that, the chief monk will give a sermon and bless those who attend this bathing ritual. Songkran
During the festival, Thai people pour water mixed with Thai Fragrance on Buddha images and a bathing ritual where the people pour water on the senior Buddhist monks. After that, the chief monk will give a sermon and bless those who attend this bathing ritual. Songkran
During the festival, Thai people pour water mixed with Thai Fragrance on Buddha images and a bathing ritual where the people pour water on the senior Buddhist monks. After that, the chief monk will give a sermon and bless those who attend this bathing ritual. Songkran
During the festival, Thai people pour water mixed with Thai Fragrance on Buddha images and a bathing ritual where the people pour water on the senior Buddhist monks. After that, the chief monk will give a sermon and bless those who attend this bathing ritual. Songkran
During the festival, Thai people pour water mixed with Thai Fragrance on Buddha images and a bathing ritual where the people pour water on the senior Buddhist monks. After that, the chief monk will give a sermon and bless those who attend this bathing ritual. Songkran
During the festival, Thai people pour water mixed with Thai Fragrance on Buddha images and a bathing ritual where the people pour water on the senior Buddhist monks. After that, the chief monk will give a sermon and bless those who attend this bathing ritual. Songkran
During the festival, Thai people pour water mixed with Thai Fragrance on Buddha images and a bathing ritual where the people pour water on the senior Buddhist monks. After that, the chief monk will give a sermon and bless those who attend this bathing ritual. Songkran
During the festival, Thai people pour water mixed with Thai Fragrance on Buddha images and a bathing ritual where the people pour water on the senior Buddhist monks. After that, the chief monk will give a sermon and bless those who attend this bathing ritual. Songkran
During the festival, Thai people pour water mixed with Thai Fragrance on Buddha images and a bathing ritual where the people pour water on the senior Buddhist monks. After that, the chief monk will give a sermon and bless those who attend this bathing ritual. Songkran
During the festival, Thai people pour water mixed with Thai Fragrance on Buddha images and a bathing ritual where the people pour water on the senior Buddhist monks. After that, the chief monk will give a sermon and bless those who attend this bathing ritual. Songkran
During the festival, Thai people pour water mixed with Thai Fragrance on Buddha images and a bathing ritual where the people pour water on the senior Buddhist monks. After that, the chief monk will give a sermon and bless those who attend this bathing ritual. Songkran
During the festival, Thai people pour water mixed with Thai Fragrance on Buddha images and a bathing ritual where the people pour water on the senior Buddhist monks. After that, the chief monk will give a sermon and bless those who attend this bathing ritual. Songkran
During the festival, Thai people pour water mixed with Thai Fragrance on Buddha images and a bathing ritual where the people pour water on the senior Buddhist monks. After that, the chief monk will give a sermon and bless those who attend this bathing ritual. Songkran
During the festival, Thai people pour water mixed with Thai Fragrance on Buddha images and a bathing ritual where the people pour water on the senior Buddhist monks. After that, the chief monk will give a sermon and bless those who attend this bathing ritual. Songkran
During the festival, Thai people pour water mixed with Thai Fragrance on Buddha images and a bathing ritual where the people pour water on the senior Buddhist monks. After that, the chief monk will give a sermon and bless those who attend this bathing ritual. Songkran