5 Incredible Years of "Hello" by Adele
Can you believe it – 5 years already? Well, here we are celebrating 5 Years of Hello ! Join us for a nostalgic ride to discuss facts about the famous song!
The lead single from her album '25' – Hello was released on October 23, 2015. The song title is apt, as it marks Adele's return to music after a three-year hiatus.
What was the song written about?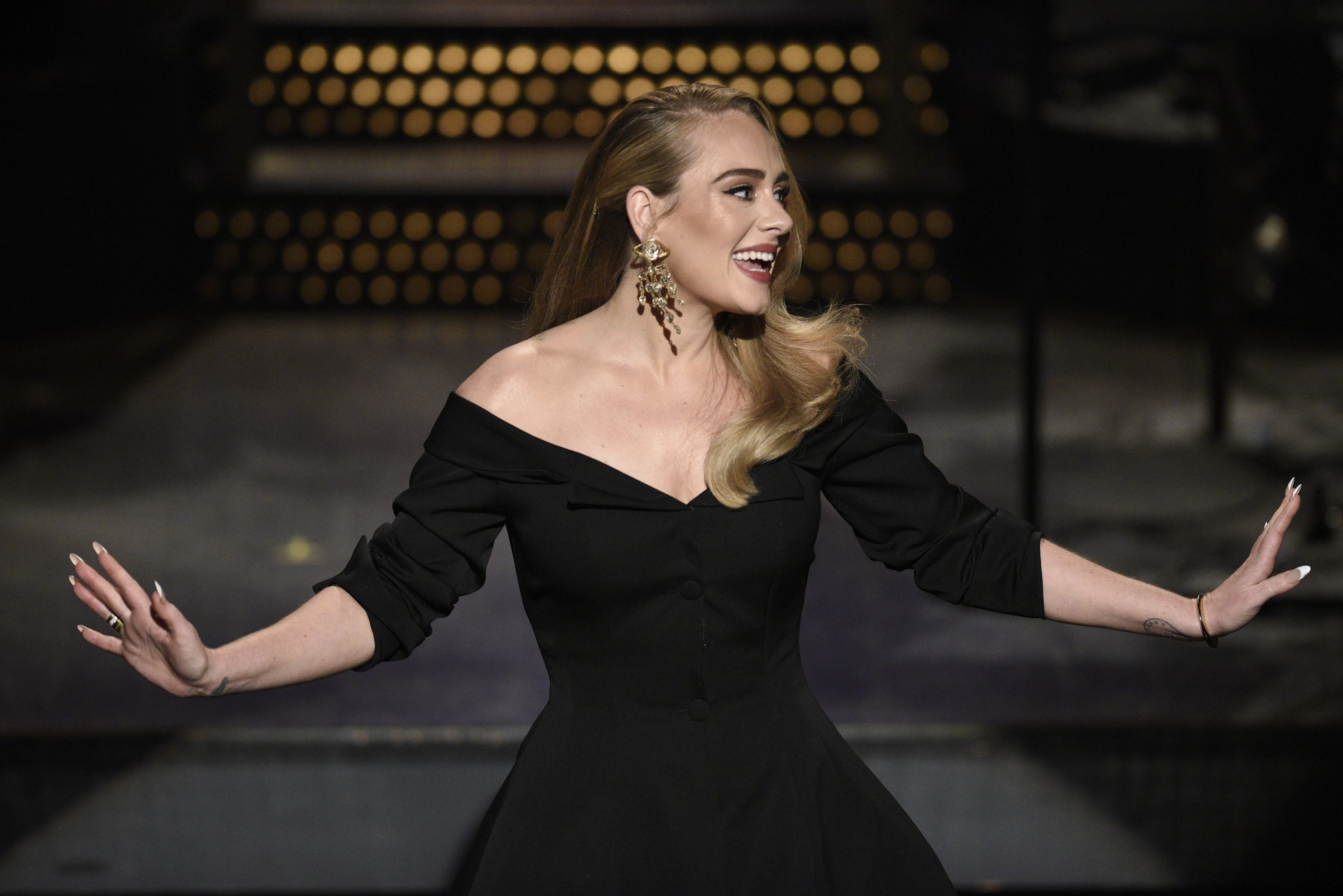 Source and Credit: Sandra Heyer Songs
When Adele was 18 years old, she fell in love with Alex. Alex was not her first boyfriend, but he was her first serious boyfriend. Alex was a photographer who was ten years older than Adele. He showed her photos of beautiful places, and she got interested in traveling. He talked about books, and she began reading fiction. He read poems to her, and she began writing poetry. Adele says, "He put me on the road I'm traveling on."
Adele and Alex were happy together for one year. Then they began to argue. Usually they didn't argue over big things — they argued over small things — but they argued a lot. They were both unhappy, and they decided to break up.
Six months later, Adele heard that Alex was engaged to someone else. She was heartbroken. She knew that Alex wasn't right for her, but she still loved him. She wrote songs about her feelings. One of those songs was "Someone Like You."
Recording
This song has a fairly standard form (verse-chorus-verse-chorus-bridge-chorus) but Adele's wild shifts in vocal intensity make the song dynamic. The first chorus doesn't hit until 1:06, which is a long time to wait for a pop song. By making the listener wait for it, when Adele lets loose, the chorus has more impact. After this first chorus, the intensity drops for the second verse, but returns for chorus #2 and remains high throughout the bridge, which in this song is a vocal break where she plays off the line "it clearly doesn't tear you apart anymore" with repetitions of "Oooh… Anymore" before returning for the last chorus.
Public Reception and Success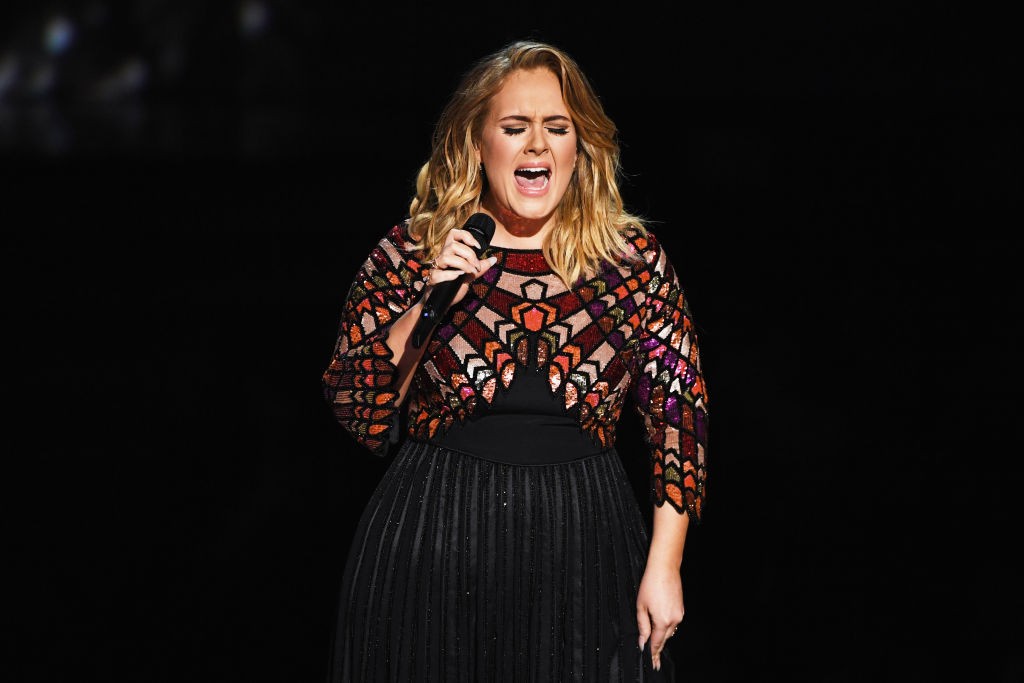 The 25 album is taking up plenty of space in the Guinness Book of Records. It sold a whopping 3.38 million copies in its first seven days of release, setting a new record for the biggest single sales week since Nielsen began tracking sales in 1991. 25 also sold a million copies in two separate weeks in the US, the first album to achieve such a feat.
In the UK 25 sold 800,307 copies in its first week, an Official Chart Company record. The album passed the previous record holder Oasis' 1997 set Be Here Now, which sold 696,000 copies in its first seven days of release. By its tenth day 25 had sold over one million copies in the UK breaking the Official UK Album Chart record for the fastest million-selling album ever.
Awards
Adele is the first artist in Grammys history to sweep the Big Three awards — Album, Record and Song of the Year — twice. She also the first woman in Grammy history to win Song of the Year twice. At the 2016 Brit Awards, Adele was nominated for five awards, in which she won four including British Single of the Year. At the 2016 Billboard Music Awards, the singer was nominated for nine categories, winning five. Check out the full list of her accolades here – courtesy Wikipedia!
Check out other Celebrity and Culture at The Teen Pop Magazine!
When Adele was 18 years old, she fell in love with Alex. Alex was not her first boyfriend, but he was her first serious boyfriend. Alex was a photographer who was ten years older than Adele. He showed her photos of beautiful places, and she got interested in traveling. He talked about books, and she began reading fiction. He read poems to her, and she began writing poetry. Adele says, "He put me on the road I'm traveling on." Hello hello helllo
When Adele was 18 years old, she fell in love with Alex. Alex was not her first boyfriend, but he was her first serious boyfriend. Alex was a photographer who was ten years older than Adele. He showed her photos of beautiful places, and she got interested in traveling. He talked about books, and she began reading fiction. He read poems to her, and she began writing poetry. Adele says, "He put me on the road I'm traveling on." Hello hello helllo
When Adele was 18 years old, she fell in love with Alex. Alex was not her first boyfriend, but he was her first serious boyfriend. Alex was a photographer who was ten years older than Adele. He showed her photos of beautiful places, and she got interested in traveling. He talked about books, and she began reading fiction. He read poems to her, and she began writing poetry. Adele says, "He put me on the road I'm traveling on." Hello hello helllo
When Adele was 18 years old, she fell in love with Alex. Alex was not her first boyfriend, but he was her first serious boyfriend. Alex was a photographer who was ten years older than Adele. He showed her photos of beautiful places, and she got interested in traveling. He talked about books, and she began reading fiction. He read poems to her, and she began writing poetry. Adele says, "He put me on the road I'm traveling on." Hello hello helllo
When Adele was 18 years old, she fell in love with Alex. Alex was not her first boyfriend, but he was her first serious boyfriend. Alex was a photographer who was ten years older than Adele. He showed her photos of beautiful places, and she got interested in traveling. He talked about books, and she began reading fiction. He read poems to her, and she began writing poetry. Adele says, "He put me on the road I'm traveling on." Hello hello helllo
When Adele was 18 years old, she fell in love with Alex. Alex was not her first boyfriend, but he was her first serious boyfriend. Alex was a photographer who was ten years older than Adele. He showed her photos of beautiful places, and she got interested in traveling. He talked about books, and she began reading fiction. He read poems to her, and she began writing poetry. Adele says, "He put me on the road I'm traveling on." Hello hello helllo
When Adele was 18 years old, she fell in love with Alex. Alex was not her first boyfriend, but he was her first serious boyfriend. Alex was a photographer who was ten years older than Adele. He showed her photos of beautiful places, and she got interested in traveling. He talked about books, and she began reading fiction. He read poems to her, and she began writing poetry. Adele says, "He put me on the road I'm traveling on." Hello hello helllo
When Adele was 18 years old, she fell in love with Alex. Alex was not her first boyfriend, but he was her first serious boyfriend. Alex was a photographer who was ten years older than Adele. He showed her photos of beautiful places, and she got interested in traveling. He talked about books, and she began reading fiction. He read poems to her, and she began writing poetry. Adele says, "He put me on the road I'm traveling on." Hello hello helllo
When Adele was 18 years old, she fell in love with Alex. Alex was not her first boyfriend, but he was her first serious boyfriend. Alex was a photographer who was ten years older than Adele. He showed her photos of beautiful places, and she got interested in traveling. He talked about books, and she began reading fiction. He read poems to her, and she began writing poetry. Adele says, "He put me on the road I'm traveling on." Hello hello helllo
When Adele was 18 years old, she fell in love with Alex. Alex was not her first boyfriend, but he was her first serious boyfriend. Alex was a photographer who was ten years older than Adele. He showed her photos of beautiful places, and she got interested in traveling. He talked about books, and she began reading fiction. He read poems to her, and she began writing poetry. Adele says, "He put me on the road I'm traveling on." Hello hello helllo
When Adele was 18 years old, she fell in love with Alex. Alex was not her first boyfriend, but he was her first serious boyfriend. Alex was a photographer who was ten years older than Adele. He showed her photos of beautiful places, and she got interested in traveling. He talked about books, and she began reading fiction. He read poems to her, and she began writing poetry. Adele says, "He put me on the road I'm traveling on." Hello hello helllo
When Adele was 18 years old, she fell in love with Alex. Alex was not her first boyfriend, but he was her first serious boyfriend. Alex was a photographer who was ten years older than Adele. He showed her photos of beautiful places, and she got interested in traveling. He talked about books, and she began reading fiction. He read poems to her, and she began writing poetry. Adele says, "He put me on the road I'm traveling on." Hello hello helllo
When Adele was 18 years old, she fell in love with Alex. Alex was not her first boyfriend, but he was her first serious boyfriend. Alex was a photographer who was ten years older than Adele. He showed her photos of beautiful places, and she got interested in traveling. He talked about books, and she began reading fiction. He read poems to her, and she began writing poetry. Adele says, "He put me on the road I'm traveling on." Hello hello helllo
When Adele was 18 years old, she fell in love with Alex. Alex was not her first boyfriend, but he was her first serious boyfriend. Alex was a photographer who was ten years older than Adele. He showed her photos of beautiful places, and she got interested in traveling. He talked about books, and she began reading fiction. He read poems to her, and she began writing poetry. Adele says, "He put me on the road I'm traveling on." Hello hello helllo
When Adele was 18 years old, she fell in love with Alex. Alex was not her first boyfriend, but he was her first serious boyfriend. Alex was a photographer who was ten years older than Adele. He showed her photos of beautiful places, and she got interested in traveling. He talked about books, and she began reading fiction. He read poems to her, and she began writing poetry. Adele says, "He put me on the road I'm traveling on." Hello hello helllo
When Adele was 18 years old, she fell in love with Alex. Alex was not her first boyfriend, but he was her first serious boyfriend. Alex was a photographer who was ten years older than Adele. He showed her photos of beautiful places, and she got interested in traveling. He talked about books, and she began reading fiction. He read poems to her, and she began writing poetry. Adele says, "He put me on the road I'm traveling on." Hello hello helllo
When Adele was 18 years old, she fell in love with Alex. Alex was not her first boyfriend, but he was her first serious boyfriend. Alex was a photographer who was ten years older than Adele. He showed her photos of beautiful places, and she got interested in traveling. He talked about books, and she began reading fiction. He read poems to her, and she began writing poetry. Adele says, "He put me on the road I'm traveling on." Hello hello helllo
When Adele was 18 years old, she fell in love with Alex. Alex was not her first boyfriend, but he was her first serious boyfriend. Alex was a photographer who was ten years older than Adele. He showed her photos of beautiful places, and she got interested in traveling. He talked about books, and she began reading fiction. He read poems to her, and she began writing poetry. Adele says, "He put me on the road I'm traveling on." Hello hello helllo
When Adele was 18 years old, she fell in love with Alex. Alex was not her first boyfriend, but he was her first serious boyfriend. Alex was a photographer who was ten years older than Adele. He showed her photos of beautiful places, and she got interested in traveling. He talked about books, and she began reading fiction. He read poems to her, and she began writing poetry. Adele says, "He put me on the road I'm traveling on." Hello hello helllo
When Adele was 18 years old, she fell in love with Alex. Alex was not her first boyfriend, but he was her first serious boyfriend. Alex was a photographer who was ten years older than Adele. He showed her photos of beautiful places, and she got interested in traveling. He talked about books, and she began reading fiction. He read poems to her, and she began writing poetry. Adele says, "He put me on the road I'm traveling on." Hello hello helllo
When Adele was 18 years old, she fell in love with Alex. Alex was not her first boyfriend, but he was her first serious boyfriend. Alex was a photographer who was ten years older than Adele. He showed her photos of beautiful places, and she got interested in traveling. He talked about books, and she began reading fiction. He read poems to her, and she began writing poetry. Adele says, "He put me on the road I'm traveling on." Hello hello helllo
When Adele was 18 years old, she fell in love with Alex. Alex was not her first boyfriend, but he was her first serious boyfriend. Alex was a photographer who was ten years older than Adele. He showed her photos of beautiful places, and she got interested in traveling. He talked about books, and she began reading fiction. He read poems to her, and she began writing poetry. Adele says, "He put me on the road I'm traveling on." Hello hello helllo
When Adele was 18 years old, she fell in love with Alex. Alex was not her first boyfriend, but he was her first serious boyfriend. Alex was a photographer who was ten years older than Adele. He showed her photos of beautiful places, and she got interested in traveling. He talked about books, and she began reading fiction. He read poems to her, and she began writing poetry. Adele says, "He put me on the road I'm traveling on." Hello hello helllo
When Adele was 18 years old, she fell in love with Alex. Alex was not her first boyfriend, but he was her first serious boyfriend. Alex was a photographer who was ten years older than Adele. He showed her photos of beautiful places, and she got interested in traveling. He talked about books, and she began reading fiction. He read poems to her, and she began writing poetry. Adele says, "He put me on the road I'm traveling on." Hello hello helllohellow you are goregous i