March 2021 Mystery Club Review: And Then There Were None
The month of March brings another round of TTP Book Club Reviews. After reading And Then There Were None, members met together for a brief discussion about the book!
TTP March Book Pick – And Then There Were None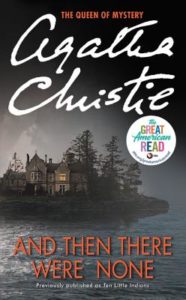 Courtesy of Goodreads,
1939. Europe teeters on the brink of war. Ten strangers are invited to Soldier Island, an isolated rock near the Devon coast. Cut off from the mainland, with their generous hosts Mr and Mrs U.N. Owen mysteriously absent, they are each accused of a terrible crime. When one of the party dies suddenly they realize they may be harboring a murderer among their number. The tension escalates as the survivors realize the killer is not only among them but is preparing to strike again… and again..
Our Thoughts on the Book
I absolutely loved this book! I love the build up, every chapter made me change my mind about who it was. The ending caught me entirely off guard. I loved the book so much I bought a physical copy of it, read it again!

Nikhita Makam, Book Club Member
It keeps you guessing, and chances are you won't know who the murderer is until the last page of the book. The only part of the book that didn't suit me was the constant evaluation of who the murderer was after each murder. It kept running in circles and killed the vibe when repeated for each murder. Lastly, the entire book and murders are psychotic, but in an intriguing way – push through the first few sections, and you'll find a whole new situation that moves much more quickly!

Riddhi Bhattacharya, Book Club Member
The book really kept me guessing from the start till the very end. I agree with Riddhi that the identity of the murderer is only revealed at the end and to be honest it was an amazing reveal.

Sarim Hamid, Book Club Member
It keeps you guessing, and chances are you won't know who the murderer is until the last page of the book. The only part of the book that didn't suit me was the constant evaluation of who the murderer was after each murder. It kept running in circles and killed the vibe when repeated for each murder. Lastly, the entire book and murders are psychotic, but in an intriguing way – push through the first few sections, and you'll find a whole new situation that moves much more quickly! And Then There Were None
It keeps you guessing, and chances are you won't know who the murderer is until the last page of the book. The only part of the book that didn't suit me was the constant evaluation of who the murderer was after each murder. It kept running in circles and killed the vibe when repeated for each murder. Lastly, the entire book and murders are psychotic, but in an intriguing way – push through the first few sections, and you'll find a whole new situation that moves much more quickly! And Then There Were None
It keeps you guessing, and chances are you won't know who the murderer is until the last page of the book. The only part of the book that didn't suit me was the constant evaluation of who the murderer was after each murder. It kept running in circles and killed the vibe when repeated for each murder. Lastly, the entire book and murders are psychotic, but in an intriguing way – push through the first few sections, and you'll find a whole new situation that moves much more quickly! And Then There Were None
It keeps you guessing, and chances are you won't know who the murderer is until the last page of the book. The only part of the book that didn't suit me was the constant evaluation of who the murderer was after each murder. It kept running in circles and killed the vibe when repeated for each murder. Lastly, the entire book and murders are psychotic, but in an intriguing way – push through the first few sections, and you'll find a whole new situation that moves much more quickly! And Then There Were None
It keeps you guessing, and chances are you won't know who the murderer is until the last page of the book. The only part of the book that didn't suit me was the constant evaluation of who the murderer was after each murder. It kept running in circles and killed the vibe when repeated for each murder. Lastly, the entire book and murders are psychotic, but in an intriguing way – push through the first few sections, and you'll find a whole new situation that moves much more quickly! And Then There Were None
It keeps you guessing, and chances are you won't know who the murderer is until the last page of the book. The only part of the book that didn't suit me was the constant evaluation of who the murderer was after each murder. It kept running in circles and killed the vibe when repeated for each murder. Lastly, the entire book and murders are psychotic, but in an intriguing way – push through the first few sections, and you'll find a whole new situation that moves much more quickly! And Then There Were None
It keeps you guessing, and chances are you won't know who the murderer is until the last page of the book. The only part of the book that didn't suit me was the constant evaluation of who the murderer was after each murder. It kept running in circles and killed the vibe when repeated for each murder. Lastly, the entire book and murders are psychotic, but in an intriguing way – push through the first few sections, and you'll find a whole new situation that moves much more quickly! And Then There Were None
It keeps you guessing, and chances are you won't know who the murderer is until the last page of the book. The only part of the book that didn't suit me was the constant evaluation of who the murderer was after each murder. It kept running in circles and killed the vibe when repeated for each murder. Lastly, the entire book and murders are psychotic, but in an intriguing way – push through the first few sections, and you'll find a whole new situation that moves much more quickly! And Then There Were None
It keeps you guessing, and chances are you won't know who the murderer is until the last page of the book. The only part of the book that didn't suit me was the constant evaluation of who the murderer was after each murder. It kept running in circles and killed the vibe when repeated for each murder. Lastly, the entire book and murders are psychotic, but in an intriguing way – push through the first few sections, and you'll find a whole new situation that moves much more quickly! And Then There Were None
It keeps you guessing, and chances are you won't know who the murderer is until the last page of the book. The only part of the book that didn't suit me was the constant evaluation of who the murderer was after each murder. It kept running in circles and killed the vibe when repeated for each murder. Lastly, the entire book and murders are psychotic, but in an intriguing way – push through the first few sections, and you'll find a whole new situation that moves much more quickly! And Then There Were None
It keeps you guessing, and chances are you won't know who the murderer is until the last page of the book. The only part of the book that didn't suit me was the constant evaluation of who the murderer was after each murder. It kept running in circles and killed the vibe when repeated for each murder. Lastly, the entire book and murders are psychotic, but in an intriguing way – push through the first few sections, and you'll find a whole new situation that moves much more quickly! And Then There Were None
It keeps you guessing, and chances are you won't know who the murderer is until the last page of the book. The only part of the book that didn't suit me was the constant evaluation of who the murderer was after each murder. It kept running in circles and killed the vibe when repeated for each murder. Lastly, the entire book and murders are psychotic, but in an intriguing way – push through the first few sections, and you'll find a whole new situation that moves much more quickly! And Then There Were None
It keeps you guessing, and chances are you won't know who the murderer is until the last page of the book. The only part of the book that didn't suit me was the constant evaluation of who the murderer was after each murder. It kept running in circles and killed the vibe when repeated for each murder. Lastly, the entire book and murders are psychotic, but in an intriguing way – push through the first few sections, and you'll find a whole new situation that moves much more quickly! And Then There Were None
It keeps you guessing, and chances are you won't know who the murderer is until the last page of the book. The only part of the book that didn't suit me was the constant evaluation of who the murderer was after each murder. It kept running in circles and killed the vibe when repeated for each murder. Lastly, the entire book and murders are psychotic, but in an intriguing way – push through the first few sections, and you'll find a whole new situation that moves much more quickly! And Then There Were None
It keeps you guessing, and chances are you won't know who the murderer is until the last page of the book. The only part of the book that didn't suit me was the constant evaluation of who the murderer was after each murder. It kept running in circles and killed the vibe when repeated for each murder. Lastly, the entire book and murders are psychotic, but in an intriguing way – push through the first few sections, and you'll find a whole new situation that moves much more quickly! And Then There Were None
It keeps you guessing, and chances are you won't know who the murderer is until the last page of the book. The only part of the book that didn't suit me was the constant evaluation of who the murderer was after each murder. It kept running in circles and killed the vibe when repeated for each murder. Lastly, the entire book and murders are psychotic, but in an intriguing way – push through the first few sections, and you'll find a whole new situation that moves much more quickly! And Then There Were None
It keeps you guessing, and chances are you won't know who the murderer is until the last page of the book. The only part of the book that didn't suit me was the constant evaluation of who the murderer was after each murder. It kept running in circles and killed the vibe when repeated for each murder. Lastly, the entire book and murders are psychotic, but in an intriguing way – push through the first few sections, and you'll find a whole new situation that moves much more quickly! And Then There Were None
It keeps you guessing, and chances are you won't know who the murderer is until the last page of the book. The only part of the book that didn't suit me was the constant evaluation of who the murderer was after each murder. It kept running in circles and killed the vibe when repeated for each murder. Lastly, the entire book and murders are psychotic, but in an intriguing way – push through the first few sections, and you'll find a whole new situation that moves much more quickly! And Then There Were None
It keeps you guessing, and chances are you won't know who the murderer is until the last page of the book. The only part of the book that didn't suit me was the constant evaluation of who the murderer was after each murder. It kept running in circles and killed the vibe when repeated for each murder. Lastly, the entire book and murders are psychotic, but in an intriguing way – push through the first few sections, and you'll find a whole new situation that moves much more quickly! And Then There Were None
It keeps you guessing, and chances are you won't know who the murderer is until the last page of the book. The only part of the book that didn't suit me was the constant evaluation of who the murderer was after each murder. It kept running in circles and killed the vibe when repeated for each murder. Lastly, the entire book and murders are psychotic, but in an intriguing way – push through the first few sections, and you'll find a whole new situation that moves much more quickly! And Then There Were None
It keeps you guessing, and chances are you won't know who the murderer is until the last page of the book. The only part of the book that didn't suit me was the constant evaluation of who the murderer was after each murder. It kept running in circles and killed the vibe when repeated for each murder. Lastly, the entire book and murders are psychotic, but in an intriguing way – push through the first few sections, and you'll find a whole new situation that moves much more quickly! And Then There Were None
It keeps you guessing, and chances are you won't know who the murderer is until the last page of the book. The only part of the book that didn't suit me was the constant evaluation of who the murderer was after each murder. It kept running in circles and killed the vibe when repeated for each murder. Lastly, the entire book and murders are psychotic, but in an intriguing way – push through the first few sections, and you'll find a whole new situation that moves much more quickly! And Then There Were None
It keeps you guessing, and chances are you won't know who the murderer is until the last page of the book. The only part of the book that didn't suit me was the constant evaluation of who the murderer was after each murder. It kept running in circles and killed the vibe when repeated for each murder. Lastly, the entire book and murders are psychotic, but in an intriguing way – push through the first few sections, and you'll find a whole new situation that moves much more quickly! And Then There Were None
It keeps you guessing, and chances are you won't know who the murderer is until the last page of the book. The only part of the book that didn't suit me was the constant evaluation of who the murderer was after each murder. It kept running in circles and killed the vibe when repeated for each murder. Lastly, the entire book and murders are psychotic, but in an intriguing way – push through the first few sections, and you'll find a whole new situation that moves much more quickly! And Then There Were None